About the Practice
My Team
Clare K. McCarthy, MD
Dr. McCarthy, MD, is a board certified orthopedic surgeon with a fellowship in Hand and Upper Extremity and a certificate of added qualification (CAQ) in Hand, Wrist and Elbow Surgery. She specializes in surgery of the hand and upper extremity, with procedures including tendon and nerve repairs, basal thumb joint replacement and rheumatoid hand reconstructions. She also treats fractures, nerve and tendon conditions, and arthritis of the wrist and fingers.
Dr. McCarthy has been performing the endoscopic carpal tunnel release (ECTR) since its inception in the early 1990s and was part of the development team that brought the procedure to the Twin Cities. She has continued to play a key role in educating other physicians on the procedure. The ECTR is the most common surgery she performs, with more than three thousand procedures completed.
Until a few years ago, the options for treating Dupuytren's contractures of the hand were limited. However, the development of Xiaflex®, an enzymatic injection, means that the condition can be treated nonsurgically. Dr. McCarthy is a preferred provider and a "Super User" for Xiaflex® injections.
Dr. McCarthy has been selected as a Top Doctor in Mpls.St.Paul Magazine by her peers for the past 10 years in a row. She was also named one of Minnesota Monthly Magazine's Best Doctors for Women in 2008 and 2010. Her goal is to listen carefully to each patient's concerns and develop a plan with the patient to resume the activities that he or she finds most meaningful.
In addition to other professional affiliations, Dr. McCarthy is a member of the American Society for Surgery of the Hand. She has been practicing in the Twin Cities since 1996.
Physician Statement
"Growing up as a dancer and a runner in Scranton, Pennsylvania, I understand the importance of working out. I continue to be active, swimming and doing Pilates several times a week and biking and Nordic skiing when I am at my cabin up north. My goal is to get you back to those things you love to do, whether it's fishing, weight-lifting, playing tennis, or any other activity that involves your hands."
Clinical Interest
Elbow Care, including Ulnar Nerve Transpositions
Hand Care, including Arthritis, CMC Arthroplasties (Replacement of the Basal Thumb Joint), Nerve Injuries, Rheumatoid Conditions, Trauma and Xiaflex® Injections
Wrist Care, including Arthritis, Endoscopic Carpal Tunnel Releases and Closed and Open Treatment of Wrist Fractures
Education
Certification
Board Certified, American Board of Orthopaedic Surgery
Subspecialty Certification in Hand Surgery
Fellowship
Orthopedic Research Fellowship in Bone Density at the University of Massachusetts
Hand and Upper-Extremity Fellowship at the University of Minnesota
Residency
University of Massachusetts
Medical Degree
Georgetown University School of Medicine
Hospital & Surgery Center Affiliations
Crosstown Surgery Center
Fairview Southdale Hospital
Fairview Ridges Hospital Courtesy Staff
Fairview University Hospital Courtesy Staff
Professional Affiliations
American Society for Surgery of the Hand
American Academy of Orthopaedic Surgeons
Minnesota Orthopaedic Society
Ruth Jackson Orthopaedic Society
Achievements and Awards
Best Doctor for Women: Minnesota Monthly Magazine (2008, 2010)
Best Doctor: Minnesota Monthly Magazine (2014, 2015)
Top Doctor: Mpls.St.Paul Magazine (2006, 2007, 2009 – 2019)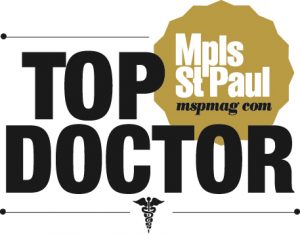 Staff
Physician Assistant, Board Certified
About
Claire Joubert, PA-C, MPAS is a Physician Assistant working in conjunction with Dr. McCarthy to coordinate excellent orthopedic patient care. Claire has worked alongside Dr. McCarthy since 2010. She is board certified by the National Commission on Certification of Physician Assistants and is a member of the Minnesota Academy of Physician Assistants and the American Academy of Physician Assistants. Claire assists Dr. McCarthy in the operating room and sees patients in clinic and in the hospital. Her responsibilities include first assisting in the OR, seeing and educating patients post-operatively, writing prescriptions, giving injections, and ordering and interpreting tests. Before becoming a PA, Claire earned a Bachelor of Arts degree in English at St. Olaf College in Minnesota and worked as arts and entertainment editor of Mpls/St. Paul Magazine for several years. She earned her Master of Science in Physician Assistant Studies at Des Moines University. Claire enjoys hiking and canoeing at her cabin near the Boundary Waters and spends many of her winter weekends as a ski patroller at Afton Alps.
Education
Certification
Board Certified, National Commission on Certification of Physician Assistants (NCCPA)
Medical Education
Master's of Physician Assistant Studies, Des Moines University – College of Health Sciences
Bachelor of Arts Degree in English, St. Olaf College
Professional Affiliations
American Academy of Physician Assistants
Minnesota Academy of Physician Assistants
Physician Assistants in Orthopaedic Surgery
Bonnie Glenzinski, OTR/L, CHT
Certified Hand Therapist
Bonnie Glenzinski, OTR/L, CHT, has been working in the Twin Cities as a Certified Hand Therapist (CHT) for more than 20 years and as a part of Dr. McCarthy's team since 2010. She earned a Bachelor of Arts (BA) degree in Occupational Therapy from the College of St. Catherine (now called St. Catherine University) in St. Paul. She is Board Certified by the National Board for Certification in Occupational Therapy (NBCOT) and the Hand Therapy Certification Commission as a Certified Hand Therapist (CHT). She also is licensed by the state of Minnesota. In clinic, Bonnie applies specialized skills to assess, develop a plan for, and treat pathology of the upper limb. She works with the post-operative patients, as well as those with acute and chronic conditions, for Dr. McCarthy and other Twin Cities Orthopedics physicians. She helps restore function and enhances every patient's ability to return to participating fully in life situations.
Susan R.
Care Coordinator
As Dr. McCarthy's care coordinator, Susan triages patient phone calls, answers patient questions, and schedules surgeries, procedures, and tests, as well as assists in clinic rooming patients. When away from work, she enjoys exercising, biking, reading, and spending time playing with her two Yorkies, Buddi and Buster. Susan has been with Dr. McCarthy since 1998.
Amy
Medical Scribe
Amy has been working in orthopedics for more than fifteen years, with more than ten years spent as a part of Dr. McCarthy's team. In that time, her role has evolved, making her a versatile member of the team. Currently, she is Dr. McCarthy's medical scribe but also enjoys putting her casting and splinting skills to use when they are needed in clinic. She has been dubbed the "stripe specialist" for the colorful stripes she adds to patient's casts. In her free time, Amy enjoys photography, painting, walking, and spending time with her family.