About the Practice
My Team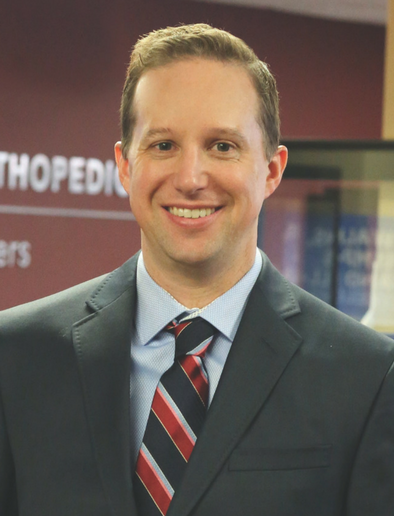 Jason A. Barry, MD
Jason (Jay) Barry, MD, is a board certified fellowship-trained orthopedic surgeon specializing in sports medicine and arthroscopic surgery, as well as minimally invasive knee and shoulder replacement. His special interests include ACL reconstruction, meniscus root repair, shoulder instability, rotator cuff repair and hip arthroscopy.
Dr. Barry is a graduate of the University of St. Thomas, where he played hockey, and Creighton University School of Medicine. He completed his fellowship at TRIA Orthopaedic Center, where he worked with Minnesota's professional sports teams. He practices at Twin Cities Orthopedics clinics in Coon Rapids, Blaine and Otsego. He performs surgery in Coon Rapids, Fridley and Maple Grove. In addition to treating patients and athletes of all ages, Dr. Barry participates on the Twin Cities Orthopedics Board of Directors, Blaine Orthopedic Surgery Center Board of Directors and is a member of the Sports Medicine Committee at TCO. He helps create new, accelerated physical therapy protocols for patients. He is involved with the sports medicine community, helping student athletes at numerous high schools, clubs and colleges.
Away from work, Dr. Barry enjoys traveling, golfing and spending time with his wife and three daughters.
Clinical Interest
Ankle Care, including sprains, fractures and Achilles tendon injuries
Elbow Injuries, including tennis elbow (Tenex procedure) and distal biceps and triceps tendon injuries
Foot Fractures
Hand Care, limited to fractures, trigger finger, carpal tunnel syndrome and cysts
Hip Care, focusing primarily on hip arthroscopy for femoroacetabular (hip) impingement syndrome and labrum tears
Knee Care, including Total Knee Replacement, Partial Knee Replacement, ACL and PCL Reconstruction and meniscus injury and meniscus root repair procedures
Pediatric Injuries, including upper and lower extremity sprains/strains, sports injuries and common pediatric fractures
Shoulder Care, including Standard and Reverse Total Shoulder Arthroplasty, rotator cuff repair and revision repairs, labrum tears, biceps tendon pathology, instability and fractures
Sports Medicine, including both operative and non-operative treatment of sports injuries in patients of all ages and skill levels
Wrist Injuries
Education
Certification
Board Certified, American Board of Orthopaedic Surgery
Sports Medicine Subspecialty Certification
Fellowship
Fellowship in Sports Medicine at TRIA Orthopaedic Center, Bloomington MN
Residency
Orlando Regional Healthcare, Orlando FL
Medical Degree
Creighton University School of Medicine, Omaha NE
Hospital & Surgery Center Affiliations
Blaine Orthopedic Surgery Center
North Memorial Ambulatory Surgery Center at Maple Grove
Unity and Mercy Hospitals
Professional Affiliations
American Academy of Orthopaedic Surgeons
American Orthopaedic Society for Sports Medicine
Arthroscopy Association of North America
Minnesota Medical Association
Minnesota Orthopaedic Society
Achievements & Awards
Top Doctor Rising Star: Voted an Orthopedic Rising Star by his peers in Mpls.St.Paul Magazine (2016, 2017, 2018)
Voted 'Top Orthopedic Surgeon & Faculty' by the residents of Blaine & Spring Lake Park (2017)
Voted #1 – Best Orthopedic Surgeon in the 2017 Reader's Choice Award by the Blaine and Spring Lake Park communities.
Sports Affiliations
Team Physician: Spring Lake Park High School
Team Physician: University of St. Thomas men's and women's hockey (2012-2017)
Team Physician: North Central University (2015-2016)
Fellowship: Minnesota Swarm
Fellowship: Minnesota Vikings, Minnesota Wild and Minnesota Twins (2008 – 2009)
Fellowship: NFL Combine (2009)
Staff
Physician Assistant, Board Certified
About
Rebecca Munson, PA-C is a Physician Assistant working in conjunction with Dr. Barry to coordinate excellent orthopedic patient care. Rebecca sees patients in the clinic setting along with Dr. Barry, performs injections, first assists in the operating room, and helps with the postoperative care and orthopedic management of patients.
Education
Certification
Board Certified, National Commission on Certification of Physician Assistants (NCCPA)
Medical Education
Master's of Physician Assistant Studies, Augsburg College
Bachelor Degree, Augsburg College
Professional Affiliations
American Academy of Physician Assistants
Minnesota Academy of Physician Assistants
Physician Assistants in Orthopedic Surgery
Jeni O.
Care Coordinator
To contact Jeni directly, please call 763-717-4113.
Research
Houtz CG, Schwartzberg RS, Barry JA, Reuss BL and Papa L. Shoulder MRI Accuracy in the Community Setting. Journal of Shoulder and Elbow Surgery. 2011. 20(8): 537-542.
Sikka RS, Bhandari S, Barrera Oro FD and Barry JA. Use of ACL Allografts in ACL Reconstruction: A Physician Survey. AOSSM Annual Meeting, Keystone, CO July 2009.
Barry JA and Macksoud WM. Cartilage-Retaining Wafer Resection Osteotomy for the Distal Ulna. Clinical Orthopedics and Related Research. 2008. 466(2): 396-401.
News
Helio.com/The American Journal of Sports Medicine
Young athletes were found to be at an elevated risk for injury as they aged, engaged in sport-specialized training and when they spent a disproportionate amount of time in organized sports vs. free play time, according to study data.
Andrews Institute for Orthopaedics & Sports Medicine.
Most orthopaedic physicians will advise patients to continually exercise if they are dealing with some form of arthritis. Yet people may not be taking their advice, according to one study.
WSJ: With a Blizzard Forecast, Shoveling Wet, Heavy Snow Is a Lot of Exercise; Push, Don't Lift.
Shoveling your way out of a snowstorm is actually a big workout. And that means that shoveling large amounts of heavy, wet snow—such as the snowfall currently descending on the Northeast—can pose significant health risks, particularly with heart and back strain.
This article is from the May 2013 issue of MD News.
Twin Cities Orthopedics physicians, including Dr. Jason Barry, argue that young athletes who specialize in a single sport are at greater risk of injuries than athletes who play multiple sports. Overuse injuries, or "repetitive use injuries," used to be associated only with older adult athletes, but physicians at TCO are finding these injuries to be more common than ever before among youth athletes.
KSTP.com
Dr. Barry, a local expert on surgical knee repair, discusses with the KSTP ABC Channel 5 news team reasons why patients today are able to recover faster than ever from major surgeries. The story investigates Minnesota Vikings running back Adrian Peterson's quick return to the football field after knee surgery, as well as how everyday patients in the Twin Cities compare.
Orthopedics Today, July 2014
I recommend parents of young athletes read this article from Orthopedics Today, which speaks to the benefits of team sports, as well as the importance of finding a balance to avoid injuries and overuse.
"The goal of sports is participation at first. But as competition and team play ensues, children learn about teamwork, helping others and fairness, and begin to define social values. During this time, they experience a growth and further development of their intellect. The growth in intelligence, related to both genetics and environment, happens rapidly during youth. The ability to gain new knowledge may be at its highest point. This coincides with physical growth and development. Children learn about the balance and synergy between their minds and physical abilities. They learn about exercise, proper nutrition, sleep and coping mechanisms for stress. The lessons are fostered and enhanced through their relationships with parents, siblings, other family members, teachers and coaches."
Orthopedics Today, July 2014
I treat a lot of young athletes, and agree with this article from Orthopedics Today, which states that young athletes age 14 are suffering from overuse injuries at an alarming rate. When the same body parts are repeatedly being exercised and pushed to their thresholds, they become at risk of overuse injuries. What is causing this? Many orthopedic surgeons, myself included, believe it is due to parents immersing their child in a single sport year-round, rather than letting them play a variety of sports, which use different muscles, ligaments, and joints.
"Parents may look toward athletes such as Tiger Woods, who began golfing as a toddler, and hold that immersing a child in a single sport at a young age will produce a professional-level athlete. However, in most cases, our sources noted that excessive practice most likely leads to injury rather than perfection."