About the Practice
My Team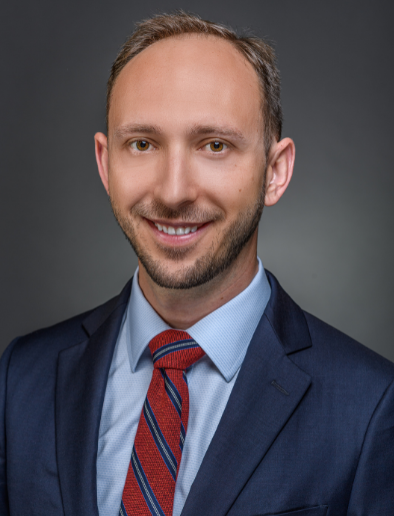 Nathan R. Wanderman, MD
Nathan Wanderman, MD, is a fellowship-trained orthopedic surgeon who specializes in the surgical and non-surgical management of conditions affecting the spine. He performs surgeries ranging from same-day minimally invasive procedures to complex revisions. He treats spinal disorders of both the neck and back, including disc herniations, spinal stenosis, spondylolisthesis, spinal cord compression, spinal deformities, spondylosis (arthritis of the spine), spine tumors, and spine fractures.
Dr. Wanderman uses a targeted stepwise treatment algorithm that emphasizes conservative management first and surgery only when necessary. When recommending surgical treatment, he believes in using the least invasive option to achieve a successful and durable outcome. Dr. Wanderman utilizes the most advanced surgical techniques, including muscle-preserving approaches, motion-preserving disc replacements, stereotactic navigation, and cutting-edge biologics to deliver the best possible surgical outcomes for his patients.
Dr. Wanderman grew up in the west Twin Cities metro, graduating valedictorian from Hopkins High School. He then attended the University of Minnesota, graduating Summa Cum Laude with a triple major in Economics, Political Science, and American Studies, and was selected to give the commencement address. He stayed at the University of Minnesota for medical school, where he was inducted into the Alpha Omega Alpha Medical Honor Society as a junior for graduating in the top 5% of his class. He completed residency in orthopedic surgery at the Mayo Clinic, followed by fellowship at the world-renowned Leatherman Spine Institute, where he trained with both orthopedic surgeons and neurosurgeons to learn the most advanced techniques in spine care. Dr. Wanderman has published over 30 peer-reviewed journal articles and book chapters, and presented his work internationally. He loves hiking, writing music, and traveling with his wife.
Learn More About Dr. Wanderman
Clinical Interest
Spine and neck care, including disc herniations, spinal stenosis, spondylosis, spondylolisthesis, myelopathy, spinal deformities, spine tumors, and spine fractures
Cervical surgery, including anterior and posterior decompression of cervical stenosis and herniated disks, artificial disc replacement, cervical fusions, and complex cervical surgery including cervical fractures, and revision surgery
Lumbar surgery, including minimally invasive decompressions and microdiscectomies, muscle spearing fusions for spondylosis and spondylolisthesis, open anterior and posterior fusions, and complex lumbar surgery including treatment of fractures of the lumbar and thoracic spine, and revision surgery
Spinal deformity, including correction of scoliosis and kyphoscoliosis, high grade spondylolisthesis, and flat back syndrome
Spinal tumors and oncology, including primary and metastatic extradural spinal tumors
Fracture care, including operative and non-operative management of cervical, thoracic, and spine fractures
Education
Certification
Board Certified, American Board of Orthopaedic Surgery
Fellowship
Norton Leatherman Spine Center Fellowship, Louisville, Kentucky
Residency
Residency in Orthopedic Surgery, Mayo Clinic, Rochester, Minnesota
Medical Degree
University of Minnesota Medical School, Minneapolis, Minnesota
Hospital & Surgery Center Affiliations
Eagan Orthopedic Surgery Center
M Health Fairview Woodwinds Hospital
Lakeview Hospital 
Professional Affiliations
American Academy of Orthopedic Surgeons
North American Spine Society
Achievements & Awards
Mayo Clinic Nominee to AOA Resident Leadership Forum (2019)
AAHS, ASPN, ASRM Joint Outstanding Paper Session Podium Presentation (2018)
Alpha Omega Alpha Medical Honor Society; Junior Inductee (Top 5% of Class) (2014)
Summa cum laude, University of Minnesota (2011)
Phi Beta Kappa, Junior Inductee (2006)
Staff
Physician Assistant, Board Certified
About
Megan Rhyner, PA-C, is a Physician Assistant working in conjunction with Dr. Nathan Wanderman to coordinate excellent orthopedic patient care. She assists in surgery in addition to caring for patients in the clinic and hospital. Her passion for orthopedic spine surgery comes from a background in neuroscience, and a drive to help those with back or neck pain to reach their individual rehabilitation goals. In her spare time she enjoys hiking, camping, gardening, and spending time at the lake.
Education
Master of Science in Physician Assistant Studies, Midwestern University, Glendale, Arizona (2020)
Bachelor of Science in Neuroscience, University of Minnesota Twin Cities, Minneapolis, Minnesota (2018)
Professional Affiliations
Physician Assistants in Orthopaedic Surgery
American Academy of Physician Assistants
Kesenya H.
Care Coordinator