About the Practice
My Team
Scott R. McGarvey, MD
Scott R. McGarvey, MD, is a fellowship trained orthopedic surgeon specializing in disorders of the foot and ankle, including trauma, arthritis, total ankle joint replacement and sports medicine. Dr. McGarvey has performed over 8,000 bunion surgical procedures.
In addition to his practice, Dr. McGarvey has served as editor to the Foot and Ankle International Journal, Director of the Minnesota Orthopaedic Society, and Clinical Associate Professor of the University of Minnesota.
Clinical Interest
Ankle Care, including Ankle Joint Revision, Ankle Joint Replacement and Total Ankle Replacement
Foot Care, including Hallux Valgus (Bunion)
Pediatric Care
Sports Medicine
Education
Certification
Board Certified, American Board of Orthopaedic Surgery
Fellowship
Advanced Foot & Ankle Surgery Fellowship at Mayo Clinic
Advanced Foot & Ankle Surgery Fellowship at Cleveland Clinic
Residency
Mayo Clinic Graduate School of Medicine
Medical Degree
Mayo Clinic
Hospital & Surgery Center Affiliations
Abbott Center for Outpatient Care
Abbott Northwestern Hospital
Crosstown Surgery Center
Fairview Ridges Hospital
Fairview Southdale Hospital
Regions Hospital
University of Minnesota Medical Center – Fairview
Professional Affiliations
American Academy of Orthopaedic Surgeons
American Medical Association
American Orthopaedic Foot and Ankle Society
Doctors Mayo Society
Foot and Ankle International (1990 – 2001), Associate Editor
Mayo Alumni Association
Minnesota Medical Association
Minnesota Orthopedic Foot and Ankle Center Fairview (1989 – 2000), Medical Director
Minnesota Orthopaedic Society
Minnesota Orthopaedic Society (1996 – 2001), Board of Directors
University of Minnesota Department of Orthopedic Surgery (1990 – 1998), Clinical Assistant Professor
Achievements & Awards
Best Orthopedic Surgeon: Sun Newspapers Readers Choice Award (2015)
Top Doctor: Voted a Top Orthopedic Surgeon by his peers in Mpls.St.Paul Magazine
(2000-2005, 2009 – 2019)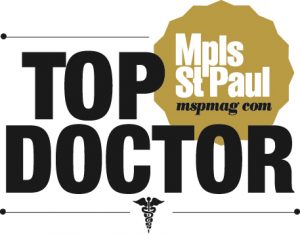 Sports Affiliations
Edina Girls Hockey Association (1999 – 2011), Founder and Director
Research & Publications
Patient Power: How one woman became an informed medical consumer — and why she chose the surgeon she did
Staff
Rhodora L.
Care Coordinator