About the Practice
My Team
Scott R. McGarvey, MD
Scott R. McGarvey, MD is a fellowship-trained orthopedic surgeon who specializes in disorders of the foot and ankle. Dr. McGarvey specializes in deformity reconstruction, Rheumatoid and inflammatory arthritis, sports medicine, foot and ankle trauma, and ankle joint replacement surgery. He has performed over 8,500 bunionectomy surgeries during his 30 years of practice.
Dr. McGarvey earned his medical degree from the Mayo Medical School, completed his orthopedic residency at the Mayo Clinic Graduate School of Medicine, and performed his postgraduate Foot and Ankle Fellowship at the Cleveland Clinic. He practices at Twin Cities Orthopedics Edina – Crosstown.
Outside of medicine, Dr. McGarvey has championed girls and women's athletics. A father of three daughters, he was instrumental in establishing a local girls' hockey program that today is more than 300 players strong. In this ever-changing medical environment, Dr. McGarvey's practice philosophy remains founded on his training at the Mayo Clinic. He believes strongly in patient education and conscientious care.
"The best interest of the patient is the only interest to be considered." – Dr. Will Mayo
Clinical Interest
Specialty interests include complex deformity reconstruction for rheumatoid, post traumatic, osteoarthritis, previously failed surgery, ankle joint replacement, and sports injuries with tendon and ligament repair
Dr. McGarvey has performed over 9,000 bunionectomy surgeries.
Education
Certification
Board Certified, American Board of Orthopaedic Surgery
Fellowship
Advanced Foot & Ankle Surgery Fellowship at Mayo Clinic
Advanced Foot & Ankle Surgery Fellowship at Cleveland Clinic
Residency
Mayo Clinic Graduate School of Medicine
Medical Degree
Mayo Clinic
Hospital & Surgery Center Affiliations
Abbott Center for Outpatient Care
Abbott Northwestern Hospital
Crosstown Surgery Center
Fairview Ridges Hospital
Fairview Southdale Hospital
Regions Hospital
University of Minnesota Medical Center – Fairview
Professional Affiliations
American Academy of Orthopaedic Surgeons
American Medical Association
American Orthopaedic Foot and Ankle Society
Doctors Mayo Society
Foot and Ankle International (1990 – 2001), Associate Editor
Mayo Alumni Association
Minnesota Medical Association
Minnesota Orthopedic Foot and Ankle Center Fairview (1989 – 2000), Medical Director
Minnesota Orthopaedic Society
Minnesota Orthopaedic Society (1996 – 2001), Board of Directors
University of Minnesota Department of Orthopedic Surgery (1990 – 1998), Clinical Assistant Professor
Achievements & Awards
Best Orthopedic Surgeon: Sun Newspapers Readers Choice Award (2015)
Top Doctor: Voted a Top Orthopedic Surgeon by his peers in Mpls.St.Paul Magazine
(2000-2005, 2009 – 2023)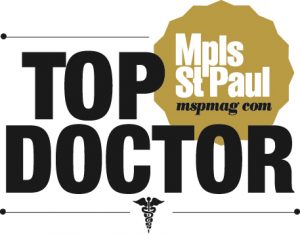 Sports Affiliations
Edina Girls Hockey Association (1999 – 2011), Founder and Director
Research & Publications
Patient Power: How one woman became an informed medical consumer — and why she chose the surgeon she did
Staff
Rhodora L.
Care Coordinator