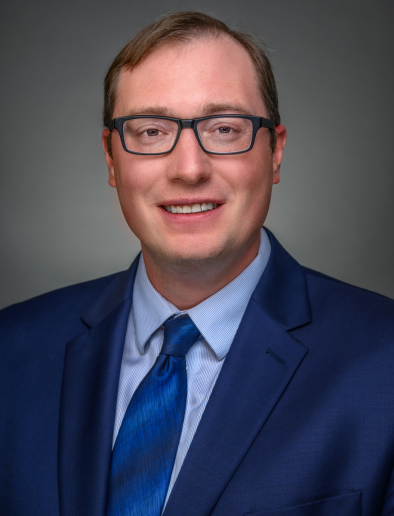 Practice Overview
Eric C. Busse, MD, is a fellowship-trained orthopedic surgeon with expertise in primary and revision joint replacement.  His surgical interests include complex primary hip and knee replacement, partial and total knee replacement, and minimally invasive surgical techniques including direct anterior total hip arthroplasty.  He is also interested in trauma care and surgical management of a variety of fractures in both lower and upper extremities.
Dr. Busse is a Minnesota native and grew up in Woodbury, Minnesota.  He moved to Northfield Minnesota to attend Saint Olaf College for his undergraduate degree in chemistry and mathematics.  He then moved to Omaha, Nebraska and received his medical training at Creighton University School of Medicine.  From there, he traveled to Detroit, Michigan to complete his residency at the Oakland University William Beaumont School of Medicine.  After this course, he returned home to finish his Fellowship in Adult Reconstruction at the University of Minnesota.  Most recently, Dr. Busse spent the first six years of his career working as an attending surgeon with the Mayo Clinic Health system in Mankato.
Outside of work, Dr. Busse enjoys spending time with his wife and two children.  They enjoy camping, hiking, fishing, and other fun things Minnesota has to offer. He has spent his fair share of hours coaching hockey and spent five years as an assistant coach with the Mankato High School lacrosse team. When weather chases him inside, you may find Dr. Busse reading a good science fiction novel.
Clinical Interest
Hip Care, including hip replacement, complex primary hip replacement, revision hip replacement, direct anterior total hip arthroplasty, minimally invasive surgery
Knee Care, including knee replacement, complex primary knee replacement, revision knee replacement, total and partial knee replacement, minimally invasive surgery
Education
Certification
Board Certified, American Board of Orthopaedic Surgery
Fellowship
Adult Reconstruction Fellowship, University of Minnesota, Minneapolis, MN
Residency
Residency in Orthopedic Surgery, Oakland University, William Beaumont School of Medicine, Royal Oak, MI
Medical Degree
Doctor of Medicine, Creighton University School of Medicine, Omaha, Nebraska
Hospital & Surgery Center Affiliations
Eagan Orthopedic Surgery Center
Minnesota Valley Surgery Center
M Health Fairview Southdale Hospital
M Health Fairview Ridges Hospital
Professional Affiliations
International Congress for Joint Reconstruction (2016 – Present)
American Association of Hip and Knee Surgeons (2016 – Present)
American Academy of Orthopaedic Surgeons (2016 – Present)
American Medical Association (2011 – Present)
Appointments
Previous Teaching
Assistant Professor of Orthopedic Surgery Mayo Clinic School of Medicine (2020 – Present)
Oakland University Hip Anatomy Workshop Instructor (2016)
Oakland University Hip Anatomy Workshop Instructor (2015)
Oakland University Spine Anatomy Workshop Instructor (2014)
Medical Student Fracture/Casting Workshop Instructor (2013)
Creighton University School of Medicine Peer Mentor (2009 – 2011)
Medical Student Tutor, Creighton University School of Medicine (2008 – 2009)
Leadership
MCHS Mankato Chief of Staff (2023 – Present)
MCHS Mankato Chief of Staff Elect (2021 – 2023)
MCHS Mankato Credentialing Committee Chair (2021 – 2023)
MCHS Mankato Hospital Board Member (2021 – Present)
MCHS Mankato Medical Executive Committee Member (2020 – 2023)
Orthopaedic Surgery APP Liaison (2019 – Present)
MCHS Mankato Credentialing Committee Member (2019 – 2023)
Improving Surgical Care and Recovery (ISCR) Team for Orthopedic surgery at MCHS Mankato (2018 – 2020)
AOA Resident Leadership Forum Providence, RI (2015)
Resident Representative for CLER Visit (2014)
William Beaumont Hospital Resident Council (2014 – 2015)
Resident Interview Selection Committee, William Beaumont Hospital Dept of Orthopaedic Surgery (2013 – 2016)
William Beaumont Hospital Quality & Safety Council (2013 – 2016)
Staff
Ashlyn R.
Care Coordinator
Patient Testimonials
Add Testimonial