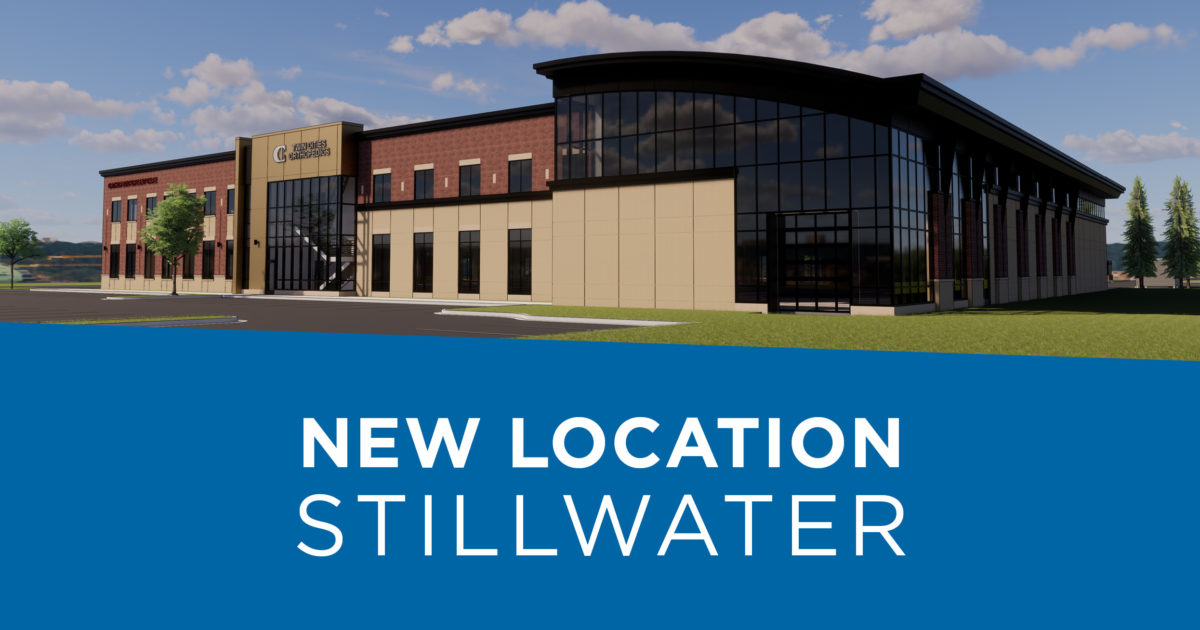 September 20, 2021 - TCO
Twin Cities Orthopedics opens new Stillwater clinic and sports performance facility
Nearly a year after breaking ground across the street from Stillwater Area High School, Twin Cities Orthopedics (TCO) has officially opened its highly-anticipated clinic and sports performance facility in Oak Park Heights. The new TCO location's expanded services and modern accommodations will make the Stillwater area a premier destination for world-class orthopedic care, rehabilitation, and athletic performance.
In addition to an orthopedic clinic, the facility offers physical therapy, hand therapy, advanced MRI scanners, and walk-in orthopedic urgent care from 8am to 8pm daily.
"Many people don't know this, but TCO is owned and led by its physicians, so a major development project like this speaks volumes to our physicians' commitment to the Stillwater and Oak Park Heights area," said Tara Loucks, TCO Vice President of Clinic Services. "We've been a part of this community for decades, and are excited to deepen our roots and serve the next generations of local families."
Sports performance amenities at TCO Stillwater include 8,000 square feet of athletic turf and training space, incline ramp, batting cage, basketball court, and weight room, serving athletes and active adults of all ages and abilities.
"We're seeing demand continue to rise for high-quality sports performance services," said TCO's CEO, Aaron Johnson. "This area is booming with young athletes and active adults, which is why we made sure to carve out space appropriate for the specialized training and injury prevention that today's athletes expect. Maybe if a place like this existed when I was growing up, my hockey career would've lasted a little longer."
STILLWATER STORIES
To celebrate the beginning of this new chapter, TCO is showcasing real local patients who volunteered to share their personal journeys in hopes of motivating and inspiring others who may face similar obstacles.
Alaina, Stillwater Hockey Captain & D1 Athlete
Art, Cyclist and Bike Shop Owner
FREE GRAND OPENING EVENT
Location: TCO Stillwater, 5715 Memorial Ave N, Stillwater, MN
Join us for the Grand Opening of TCO Stillwater on Saturday, October 9th from 11:00 AM – 2:00 PM. The family-friendly event is free and open to the public.
Highlights include:
Autographs from Minnesota Vikings Defensive End, Danielle Hunter
Meet & greet with Chris Hawkey from KFAN's Power Trip Morning Show
Appearances from Minnesota Vikings Cheerleaders and Skol Line
First 200 people receive a sideline swag bag
Chance to win Vikings memorabilia
Facility tours and sports performance program demonstrations
Games & activities for all ages
Pizza Barn food truck
Agenda:
11:00 AM – 12:00 PM: Vikings Cheerleaders + Chris Hawkey Meet & Greet
11:30 AM – 12:30 PM: Live Prep Sports podcast with Jim Souhan and Randy Shaver
12:00 PM – 1:00 PM: Skol Line performance
12:30 PM: Ribbon cutting
1:00 – 2:00 PM – Autographs from Minnesota Vikings Defensive End Danielle Hunter
Vikings Autograph Guidelines:
Only those with wristbands will be guaranteed an autograph (1 wristband per person).
Limit of one (1) autograph permitted per wristband. No exceptions.
A guarantee of 120 wristbands will be distributed per autograph line. If time allows, additional wristbands will be distributed to those in line.
Personal items and photos are prohibited. An autograph card will be provided to each person with a wristband.
Wristbands will be distributed to fans at Noon, 1 hour prior to the autograph-signing session with Danielle Hunter.
Autographs will not be guaranteed for fans who do not receive a wristband.
Wristbands will only be given to those who are physically in line. There will be no saving of spots, and lines will be monitored. Anyone who violates any of the above guidelines will not be eligible for autographs.
Participants must be 18 years or under to receive a wristband and subsequent autograph.
*Player subject to change.*
*Orthopedic Urgent Care at TCO Stillwater will remain open during the event.
**Our mask/face covering policy for this event is as follows
Fully vaccinated patients are not required to wear a mask/face covering.
Non-vaccinated patients are still encouraged to wear a mask/face covering.
All staff are required to wear a mask/face covering in patient facing areas.