Practice Overview
For over 20 years, I have enjoyed practicing specialized, patient-centered care. We help people of all ages understand their hand, wrist, forearm or elbow conditions, and assist them in choosing personalized treatment. I strive to understand which issues are important to you. In some instances, though you might have an abnormal test or X-ray, that doesn't necessarily mean that you need surgery. We help patients with surgical and non-surgical specialty care, including hand therapy, exercises, medications, injections, splinting, and casting.
Distal radius wrist fracture treatment and research is a special area of surgical expertise. While at the University of Minnesota, I invented, patented and developed the internal fixation plate and techniques for volar plating of the distal radius with Matthew Putnam, MD, and Charles Jennings, MD. Newer versions of our original plate are now commonly used by most hand surgeons in the USA to treat these common injuries.
I have enjoyed teaching the beautiful intricacies of hand surgery to young doctors and hand therapists for over 20 years in the USA and abroad. As a founding board member of the Twin Cities Orthopedic Foundation, I am an active volunteer locally and in Nicaragua. I started the International Orthopedic Scholar Program with Kurt Anderson, MD, in 2015. As president of the Abbott-affiliated subgroup for over 10 years, and as a Twin Cities Orthopedics board member for 10 years, I am proud of my leadership efforts that helped build TCO into one of the world's largest orthopedic group practices.
Originally from Philadelphia, I married my wife, Katie, who is a Minnesotan and a busy pediatrician at Central Pediatrics in Woodbury. We've lived in the Twin Cities since 1988 and raised three children here. I enjoy travel, golf, fly-fishing, photography, scuba, carpentry and cycling.
Clinical Interest
Elbow care, including joint replacement, tendon transfers, arthritis, and tennis elbow
Hand care, including mini-open carpal tunnel release, arthritis, tendon repairs, and fractures
Pediatric care, including injuries, trigger thumbs, cysts, and congenital differences
Sports medicine, including wrist and elbow arthroscopy, and ligament reconstructions
Wrist care, including fractures, arthritis, rheumatoid, ligament injuries, and ganglions
Education
Certification
Board Certified, American Board of Orthopaedic Surgery
Subspecialty Certification in Hand Surgery
Fellowship
Hand and Upper Extremity Fellowship at University of Minnesota
Residency
University of Minnesota Department of Orthopedic Surgery
Medical Degree
University of Pennsylvania School of Medicine
Additional
Certificate Program in Management for Physicians, University of St. Thomas
Hospital & Surgery Center Affiliations
Children's Hospital
Crosstown Surgery Center
Eagan Orthopedic Surgery Center
Fairview Southdale Hospital
WestHealth Surgery Center
Professional Affiliations
Fellow, American Society for Surgery of the Hand
Fellow, American Academy of Orthopaedic Surgeons
American Medical Association
Minnesota Orthopaedic Society
Achievements & Awards
Top Doctor, Hand Surgery, Mpls.St.Paul Magazine (2007)
Top Doctor, Minnesota Monthly Magazine (2019, 2022, 2023)
Co-Developer and Inventor, SCS Distal Radius Plating System
US Patent No. 5,586,985
US Patent No. 6,755,831
Special Interest
Teaching
Clinical Instructor:
University of Minnesota Department of Orthopaedic Surgery (1996 – 2009)
Course Co-Director and Speaker:
Practical Orthopedics for Primary Care, TCO (2006 – 2013)
Recent Lectures:
Orthopedic Options for Primary Care, Allina (2013)
Doctors Demystify Upper Extremity Wound Care (2016)
Orthopedic and Trauma Conference, Hennepin County Medical Center (2015)
Volunteer Service
Click here to learn more about my volunteer service
Twin Cities Orthopedics Foundation:
Founding Board Member and Treasurer (2007 – Present)
President (2018 – Present)
Overseas Orthopedic Surgery and Teaching:
Port-au-Prince, Haiti (2011)
Leon, Nicaraugua (April 2013)
Leon, Nicaraugua (January 2014)
Leon, Nicaraugua (April 2015)
Leon and Matagalapa, Nicaragua (April 2016)
Leon, Nicaragua (April 2017)
International Orthopedic Scholar Program, TCOF:
Dr. Marlen Taleno and Dr. Carlos Paiz (2015)Dr. Juan Guadamuz, MD and Dr Donald Garcia, MD (2017)
Juvenile Diabetes Research Foundation (JDRF):
Minndakota Chapter Board Member (2000 – 2006)
Imagine Award Recipient (2007)
Board of Chancellors (2018 – Present)
JDRF Walk to Cure Diabetes:
Volunteer and Logistics Coordinator (1993 – Present)
Event Co-Chair (2001, 2002)
Leadership
Twin Cities Orthopedics, Board Member and Chair (2003 – 2013)
Twin Cities Orthopedics Abbott-Affiliated Division, President (2001 – 2013)
Twin Cities Orthopedics Foundation, Founding Board Member and Treasurer (2007 – Present)
Twin Cities Orthopedics Foundation, President (2018 – Present)
Minneapolis Bone & Joint Institute, Founding Member and Board Chair (1999 – 2004)
Abbott Northwestern Hospital PHO, Board Member (1999 – 2003)
Twin Cities Orthopedic Society, Co-President (1996 – 1997)
Juvenile Diabetes Research Foundation, Board Member (2000 – 2006)
Juvenile Diabetes Research Foundation, MN Board of Chancellors (2018 – Present)
Research
Design and Biomechanics of a Plate for the Distal Radius
Biomechanics of Dorsal Plating of the Distal Radius
Distal Radial Metaphyseal Forces in an Extrinsic Grip Model: Implications for Postfracture Rehabilitation
Co-Developer and Inventor, SCS/D and SCS/V Distal Radius Plating System
US Patent No. 5,586,985 – Method and apparatus for fixation of distal radius fractures
US Patent No. 6,755,831 – A fixation plate kit for fixation of distal radius fractures
Staff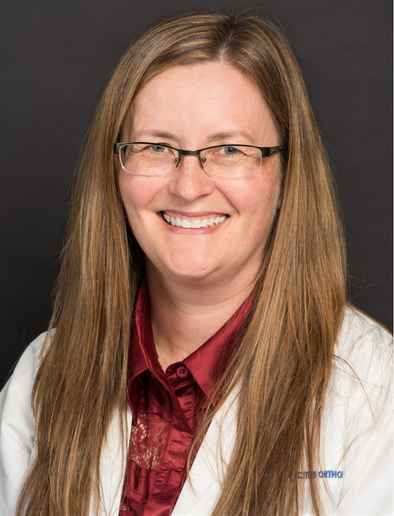 Julie Stauffer, OTR/L, CHT
Certified Hand Therapist
Jeannine P.
Care Coordinator
Patient Testimonials
Show All Testimonials
Add Testimonial