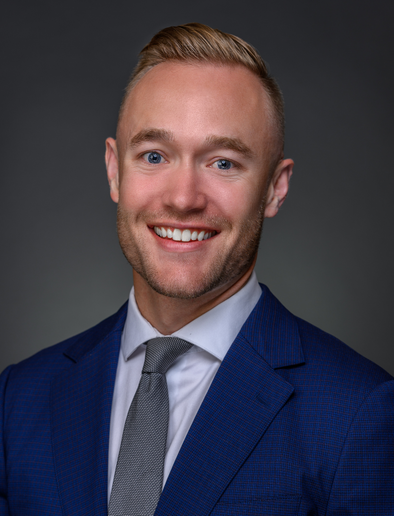 Practice Overview
Jeremiah Johnson, MD, is a fellowship-trained orthopedic surgeon specializing in joint preserving procedures of the knee and shoulder. He also performs shoulder, hip, and knee replacements and is experienced in treating acute orthopedic trauma and fractures. His special interests include shoulder instability, rotator cuff repair, shoulder replacements, ACL reconstruction, meniscus surgery, and cartilage procedures.
Dr. Johnson grew up on a farm in Litchfield Minnesota and attended Litchfield High School. He completed his undergraduate degree at Bethel University and is a graduate of the University of Minnesota Medical School. He continued his training at the University of Connecticut orthopedic surgery residency program. While in residency he was awarded the Neag Research Fellowship and an OREF Grant for his shoulder research on utilizing biologic treatment, such as PRP, to help improve tendon healing. Dr. Johnson's research led to multiple peer-reviewed publications and presentations. After residency, he further subspecialized by completing a sports medicine and shoulder fellowship at Duke University with a focus on minimally invasive and arthroscopic procedures of the knee and shoulder.
Dr. Johnson has had the privilege to care for many athletes both on field and in the operating room. He has served as an assistant team physician at Duke University for the men's basketball, football, and baseball teams along with many other college and high school teams. Dr. Johnson remains involved in the sports medicine community, helping patients and athletes of all ages and activity levels get back to their game.
In his spare time, Dr. Johnson enjoys paddle boarding and running around nearby lakes, playing Tennis, CrossFit, and spending time with his family and friends. He is an avid outdoorsman and looks forward to boundary waters canoe trips, hiking, and fishing. He appreciates good food and discovering new restaurants throughout the Twin Cities.
Clinical Interest
Elbow care
Foot and ankle care
Fracture care
Hand and wrist care 
Hip care
Knee care
Pediatric care
Shoulder care
Spine and neck care 
Sports medicine
Education
Certification
American Board of Orthopedic Surgery, Board Eligible
Fellowship
Orthopaedic Sport Medicine and Shoulder Fellowship, Duke University, Durham, NC
Residency
Orthopaedic Surgery Residency, University of Connecticut, Farmington, CT
Medical Degree
Doctor of Medicine, University of Minnesota
Hospital & Surgery Center Affiliations
Eagan Orthopedic Surgery Center
Minnesota Valley Surgery Center
Professional Affiliations
American Orthopaedic Society for Sports Medicine (2020 – Present)
Connecticut Orthopaedic Society (2015 – Present)
American Academy of Orthopaedic Surgeons (2015 – Present)
Achievements & Awards
McCollister Evarts Resident Leadership Forum – American Orthopaedic Association (2020)
Dean's Symposium for Quality Improvement & Patient Safety – University of Connecticut (2017)
Southwestern Medical Foundation International Mission Grant – Southwestern Medical Clinic (2014)
University of Minnesota Foundation Research Grant – University of Minnesota (2013)
Medical Foundation Scholarship (2011)
First Year Honors – University of Minnesota Medical School (2011)
Tri-Beta Research Scholarship Foundation Grant – Tri-Beta Research Foundation (2009)
Weldon Jones Memorial Research Scholarship Recipient – Bethel University (2009)
Reynhout Medical Mission Scholarship – Bethel University (2009)
Sports Affiliations
Assistant Team Physician, Duke University: Mens Basketball, Football, Baseball, Durham, NC
Assistant Team Physician, UNC Central Football – Durham, NC
Assistant Team Physician, Southern Durham High School Football – Durham, NC
Assistant Team Physician Canton High School Football – Canton, CT
Staff
Madison Styrlund, PA-C
Certified Physician Assistant
Salma A.
Care Coordinator
Patient Testimonials
Add Testimonial