May 30, 2017 - TCO
From snapping forearm to snapping streak: The making of a champion
Tyler Wagener asked if it was broken. He felt a snap in his forearm after colliding with an opponent's helmet on a tackle attempt. The impact was so loud that his parents could hear it from their seats.
"Is it broken? Is it broken?" the Waconia High School junior repeated as Ridgeview Medical Center athletic trainer Jeff Chrest and Twin Cities Orthopedics Dr. Jeff Mair examined him on the sideline.
He suffered a proximal radius fracture in his right arm. It was Oct. 7, and Tyler's football season was over.
Tyler wondered if his wrestling season was done, too, before it even began. It was supposed to be a big year for him after second- and third-place finishes at the state tournament, respectively, as a freshman and sophomore. He was determined to capture the state championship that eluded him and defeat the wrestler who had never lost to him.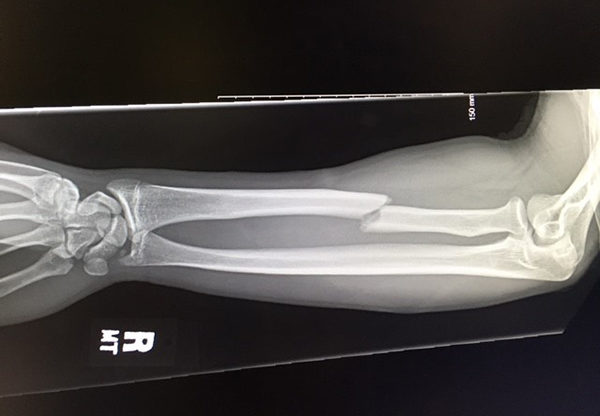 1. Surgery
TCO Dr. Christopher Meyer has a longstanding history with Tyler and the Wageners that includes treatment for two previous thumb injuries, a wrist fracture and, most recently, a torn labrum, which Tyler suffered during his first match at the state tournament.
Dr. Meyer also has known Tyler's mother, Jonie Wagener, for years from her work as the same-day surgery (SDS)/postanesthesia care unit (PACU) supervisor at Ridgeview Medical Center.
"Jonie's a powerhouse," Dr. Meyer said. "She's definitely a driving force. She keeps that whole machine running."
When the time came to identify a surgeon for Tyler's proximal radius fracture, Dr. Meyer recommended that TCO hand surgeon Dr. Daniel Marek perform the surgery since the fracture was close to the nerves that control finger extension.
"You can't really be everywhere all the time, and you can't do everything. That's just not true anymore," Dr. Meyer said. "Having Dr. Marek available to do that was important."
"I was kind of panicking," Tyler said, "but when I went to see Dr. Marek, he just acted like it was another day, which calmed me down."
Dr. Marek grew up with three older brothers who wrestled in high school, so he understood the physical demands of the sport.
"He had to sell me as a coach and a parent," Kelly Wagener, Tyler's father and the co-head coach of the wrestling team, said. "After meeting with him, I felt real comfortable. The doctors did a remarkable job; it's unbelievable."
2. Returning to the mat
With a successful surgery and a bone that was healing without incident, Tyler began rehabilitation and targeted mid-December for his return to the mat. He continued to progress and eventually was ready to begin practicing.
"That first week I tried to come back I couldn't make it through a full practice without it hurting," Tyler said.
He struggled and felt a stinging pain in his arm. But X-rays and Dr. Marek reassured him that everything was OK, physically.
"I was never worried about the bone healing. I was worried about his psyche," Dr. Marek said. "Athletes can take their body for granted, initially. When they get hurt, you have to get them to believe in their body and put confidence back in them again. What makes them successful is that confidence in themselves. As orthopedic surgeons, it is our responsibility to help get them through those mental blocks."
Tyler made it back to competition by his desired timetable of mid-December, just in time for the annual holiday tournament. He won his first two matches before losing the third. In his fourth match, he faced three-time defending state champion Garrett Aldrich of Albert Lea High School, a wrestler who owned a 3-0 record against Tyler, including state victories in the 2015 final and 2016 semifinals.
Tyler lost again, this time 5-1, to go 2-2 at the holiday tournament.
3. Breaking through
With the help of grip-strengthening exercises from Chrest, encouragement from coaches, teammates, family and friends, and more reassurance from X-rays and Dr. Marek, Tyler overcame the worries with which he had been wrestling.
He wrestled and won his way to the state semifinals and a rematch with Aldrich.
The result this time?
Nearly five months after breaking his forearm, Tyler beat his rival, 12-2. He went on to win his next match to become the state champion in the 145-pound weight class.
"I felt like I was ready to go," Tyler said about his semifinal match. "I didn't know I had so much confidence in myself. I told myself that I had been through worse (with the injury)."

4. Injury to victory
From the time he was injured to his state championship, Tyler's care team remained intact.
"The partnership with TCO, Ridgeview Medical Center and the athletic trainers is seamless," said Dr. Mair, who kept in constant contact with the Wageners from the time Tyler was hurt.
"It's great to have TCO on the sidelines with us so we can make those judgments about how quickly we need to get that advanced care," Chrest said. "It's great to have Ridgeview and TCO together; it makes the communication easy."
"That whole approach allows us to cover all the high schools we cover," Dr. Meyer said.
Jonie Wagener has seen firsthand, as an SDS/PACU supervisor and a parent, the importance of quality care.
"Thank you to Jeff (Chrest) and the doctors," Jonie Wagener said about the care Tyler received from Ridgeview and TCO. "Why would you go anywhere else?"
Throughout the recovery process, Tyler, 17, learned how to deal with mental roadblocks.
"Focus on the positive things," he said. "Don't bring yourself down. You've got to crush all those negative thoughts and put positive thoughts in your head."