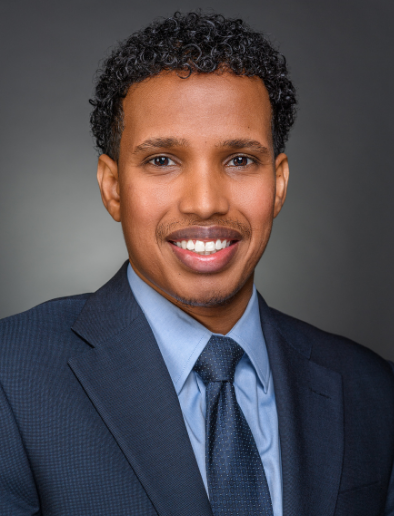 Practice Overview
Adan Omar, MD, is a fellowship-trained orthopedic spine surgeon with a strong connection to the Twin Cities region. He completed his Orthopedic Surgery Residency at the University of Rochester. Dr. Omar's desire to learn how to surgically treat the full spectrum of spinal disorders led him to complete his fellowship in minimally invasive and complex spinal disorders at the Mayo Clinic, in order to gain expertise in treating a wide range of spine pathology and performing a comprehensive array of surgical techniques, including anterior and posterior decompression, instrumentation, microsurgery, and minimally invasive surgery at all levels of the spine whenever appropriate. He performs motion-preserving surgeries, such as disc replacements, cervical laminoplasty and uses muscle-preserving surgical techniques.
Dr. Omar believes that each patient's pain is uniquely different. While there are many issues that back and neck pain have in common, everyone has their own journey. He is passionate about getting to know each of his patients individually and developing a treatment plan together to get them back to doing the activities they love. Treatment options are tailored to each individual, using a multidisciplinary and collaborative approach including physical therapist and pain management physicians to provide personalized care to each patient. Prior to any considerations for surgery, Dr. Omar will explore all the options available to address your back pain, providing a thorough assessment and evaluation. The goal is to provide long-term improvement of your symptoms by minimizing your risks.
Learn More About Dr. Omar
Clinical Interest
Spine and Neck Care, including Spine Decompression, Spine Fusion, Disc Degeneration/Spondylosis, Disc Herniation, Fracture Management, Myelopathy, Radiculopathy, Spinal Stenosis, and Spondylolisthesis, Discectomy, Low Back/Lumbar
Cervical Surgery, including Anterior and Posterior Decompression of Cervical Stenosis and Herniated Disks, Artificial Disc Replacement, Cervical Fusions, and Complex Cervical Surgery including Cervical Fractures and Revision Surgery
Lumbar Surgery, including Minimally Invasive Spinal Surgery for Herniated Disk and Lumbar Fusions, Resection of Synovial Cyst, Revision Surgery of Failed Back Surgical Syndrome, Open Anterior and Posterior Lumbar Fusions, Surgery for All Grades of Spondylolisthesis, Muscle Spearing Fusions for Spondylosis and Spondylolisthesis and Treatment of Fractures of the Lumbar and Thoracic Spine
Spinal Deformity, including Correction of Scoliosis and Kyphoscoliosis, Failed Back Surgical Syndrome, Flat Back Syndrome and High Grade Spondylolisthesis
Fracture Care, including Operative and Non-Operative Management of Cervical, Thoracic and Spine Fractures. Dr. Omar also sees patients for operative and non-operative care of extremity fractures.
Education
Certification
Board Eligible, American Board of Orthopaedic Surgery
Fellowship
Mayo Clinic Spine Surgery Fellowship, Rochester, MN
Residency
Orthopedic Surgery Residency Program, University of Rochester Medical Center, Rochester, NY
Medical Degree
Meharry Medical College, Nashville, TN
Hospital & Surgery Center Affiliations
Crosstown Surgery Center
Eagan Orthopedic Surgery Center
M Health Fairview Ridges
M Health Fairview Southdale
Professional Affiliations
AO Spine
North American Spine Society (NASS)
Cervical Spine Research Society Candidate Membership
American Academy of Orthopedic Surgeons
J. Robert Gladden Orthopaedic Society
Achievements & Awards
Resident Teacher Award- University of Rochester Orthopaedic Department (2019)
ACGME Chief Resident Travelling Award (2018)
URMC Resident leader (2018)
Ivy V. Polk Endowed Scholarship (2015)
Alpha Omega Alpha Medical Honor Society; Junior Inductee (2014)
Gold Humanism Honor Society (GHHS) (2014)
J. Robert Gladden Orthopedic Society Scholarship (2014)
The Sara L. Loveland Endowed Memorial Scholarship (2013)
Outstanding Student Award in Medical Biochemistry (2013)
The John H. Walls, MD Endowed Scholarship (2012)
Scholarship for Disadvantaged Medical Students (2011)
Dean's List Scholar (2012 – 2015)
Staff
Julia C.
Care Coordinator
Patient Testimonials
Show All Testimonials
Add Testimonial