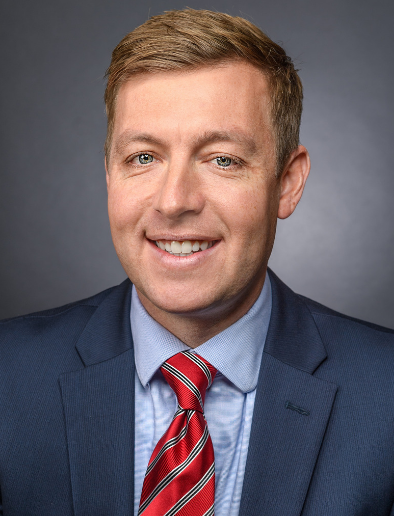 Practice Overview
D. Charles Eggert, MD, is a sports medicine fellowship-trained orthopaedic surgeon who specializes in arthroscopic reconstruction of the knee, hip and shoulder.  He also performs total joint replacement and fracture care. His special interest is in the care of athletes, including ACL reconstruction, shoulder instability, and arthroscopic rotator cuff repair.
Dr. Eggert enjoys spending time with his wife and children. His interests include fishing, golfing, skiing, and any outdoor activity.
Clinical Interest
Knee care, including treatment of ACL injuries, ligament injuries, meniscus injuries, patellar instability, cartilage injuries, quadriceps tendon tears, patellar tendon injuries and arthritis. Performs ACL reconstructions, meniscus repairs, ligament repairs, MPFL reconstructions, cartilage repair/restoration, and total knee replacement.
Shoulder care, including treatment of shoulder instability/dislocations, Bankart injuries, SLAP and labral tears, shoulder separation injuries, proximal bicep tendon injures and rotator cuff tears.  Performs arthroscopic rotator cuff repairs, labral repairs, shoulder arthroscopy and CC ligament reconstruction.
Hip care, including treatment of femoroacetabular impingement with labral tears, proximal hamstring and abductor tendon injuries. Performs hip arthroscopy with labral repairs and FAI correction, proximal hamstring repair, and total hip replacements.
Elbow care, including treatment of distal bicep and triceps tendon injuries.
Ankle care, including treatment of lower extremity sprains/strains and Achilles tendon injuries.
Fracture care, including treatment of most knee, shoulder, clavicle, hip, elbow and ankle fractures
Pediatric care, including treatment of both upper and lower extremity sprains/strains, sport injuries, and common fracture care
Sports medicine, including special interest in treating athletes of all ages and skill
Education
Certification
Board Certified, American Board of Orthopaedic Surgery
Fellowship
Fellowship in Sports Medicine at Steadman Hawkins Clinic – Denver, CO
Residency
Medical College of Wisconsin
Medical Degree
Medical College of Wisconsin
Professional Affiliations
American Academy of Orthopaedic Surgeons
American Medical Association
American Orthopaedic Society for Sports Medicine
Arthroscopy Association of North America
Achievements & Awards
Minnesota Monthly Top Doctor Award (2022, 2023)
Sports Affiliations
Team Physician: Belle Plaine High School
Team Physician: Holy Family High School (2022)
Team Physician: Denver Broncos (2014 – 2015)
Team Physician: Colorado Rockies (2014 – 2015)
Staff
Molly H.
Care Coordinator
Patient Testimonials
Show All Testimonials
Add Testimonial