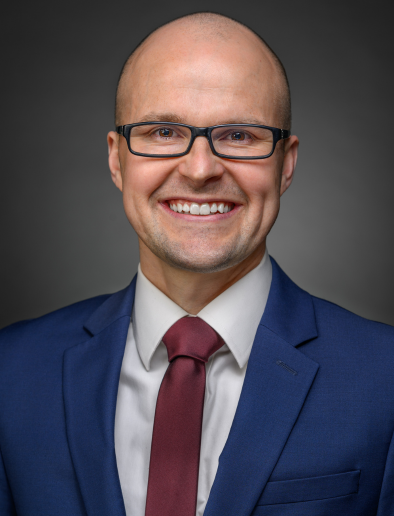 Practice Overview
Dr. Miller specializes in the diagnosis and treatment of inflammatory arthritis and systemic autoimmune conditions including but not limited to rheumatoid arthritis, psoriatic arthritis, ankylosing spondylitis, gout, polymyalgia rheumatica (PMR), vasculitis, myositis, lupus and other rare, multi-organ autoimmune disorders. He has additional training in musculoskeletal ultrasound, which he uses for diagnosis and procedures. Dr. Miller went into Rheumatology because it is truly a fascinating field of medicine, but most of all, he enjoys the continuity of care with his patients and helping their condition improve over time. He grew up in Minnesota and now lives in Woodbury, MN with my wife, 2 kids and an energetic golden retriever.  In his free time, Dr. Miller likes spending time with family and friends, traveling, and staying active by running, biking, and skiing.
Clinical Interest
General rheumatology, including inflammatory arthritis (rheumatoid arthritis, psoriatic arthritis, ankylosing spondylitis, reactive arthritis), crystalline arthritis (gout, pseudogout), polymyalgia rheumatica (PMR), myositis and interstitial lung disease, vasculitis, lupus, scleroderma, Sjogren syndrome, mixed connective tissue disease, and uveitis/iritis (systemic immunotherapy; co-managed with ophthalmology)
Musculoskeletal ultrasound, including assisting with diagnosis of inflammatory arthritis or crystal arthritis such as gout, joint injections of the shoulder, elbow, wrist, hand, fingers, hips, knees, ankles, feet, and toes
Dr. Miller does not manage chronic pain, chronic lyme, long COVID-19/long haul COVID-19, Ehlers-Danlos syndrome, hypermobility syndromes, chronic fatigue syndrome (myalgic encephalomyelitis), non-inflammatory spine problems (degenerative arthritis of the spine, spinal stenosis, degenerative disc disease). Dr. Miller is able to help establish the diagnosis of fibromyalgia but do not manage it long term.
Education
Certification
Board Certified, American Board of Internal Medicine – Rheumatology
Board Certified, American College of Rheumatology – Musculoskeletal Ultrasound Certification in Rheumatology (RhMSUS)
Fellowship
Rheumatology Fellowship, University of Minnesota
Residency
Internal Medicine Residency, Hennepin County Medical Center
Medical Degree
University of Minnesota Medical School
Professional Affiliations
American College of Rheumatology
Staff
Wendi S.
Care Coordinator
Patient Testimonials
Add Testimonial