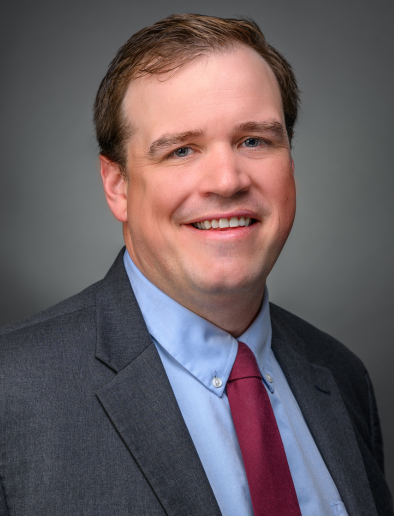 Practice Overview
Jeffrey A. Gilbertson, MD, is an Orthopedic Surgeon with fellowship training in Orthopedic Trauma Surgery and an additional area of focus in Adult Reconstruction. His interests include surgical and non-surgical management of fractures and traumatic musculoskeletal injuries involving the upper and lower extremities, periprosthetic fractures (fractures around hip and knee replacements), as well as complex fractures involving the pelvis and acetabulum. In addition to managing acute injuries, he also has training in post-traumatic reconstruction, treatment of nonunions (bones that have failed to heal), malunions (bones that have healed in poor alignment), and osteomyelitis (infection of the bone). Dr. Gilbertson also has extensive experience in Direct Anterior Total Hip Replacement, as well as primary and revision hip and knee replacement.
Originally from Wabasha, MN, Dr. Gilbertson graduated magna cum laude from St. John's University in Collegeville, MN, where he was a 2 time Academic All-American in football. He earned his medical degree at the University of Minnesota, and subsequently completed his residency in Orthopedic Surgery at Western Michigan University Homer Stryker MD School of Medicine in Kalamazoo, Michigan. He underwent an additional year of fellowship training in Orthopedic Trauma at OrthoIndy in Indianapolis, IN.
Outside of work, he enjoys spending time with his wife, who works as a Physician Assistant, and their two young boys. Together, they enjoy attending sporting events, exploring outdoor Minnesota, and traveling.
Clinical Interest
Ankle Care, including Fractures and Dislocations, Post-traumatic Arthritis, Ankle Fusion/Arthrodesis
Elbow Care, including Fractures and Dislocations, Cubital Tunnel Syndrome, Olecranon Bursitis
Foot Care, including Fractures and Dislocations, Lisfranc/Midfoot injuries, Post-traumatic Arthritis, Midfoot and Hindfoot Fusion/Arthrodesis
Fracture Care, including Acetabulum (Hip Socket), Pelvic Ring/Sacrum, Periprosthetic Fractures, Hip, Total Hip Replacement for Fracture, Femur, Knee, Patella, Tibial Plateau, Tibia, Pilon, Ankle, Talus, Calcaneus, Midfoot, Lisfranc, Clavicle, Scapula, Humerus, Reverse Total Shoulder Replacement for Fracture, Elbow, Forearm/Wrist, Nonunion, Malunion
Hip Care, including Direct Anterior Hip Replacement, Periprosthetic Fractures, Prosthetic Joint Infection, Revision Hip Replacement
Knee Care, including Total Knee Replacement, Periprosthetic Fracture, Prosthetic Joint Infection, Revision Knee Replacement
Pediatric Care, including Upper and Lower Extremity Fractures, Pelvic/Acetabular Fractures
Shoulder Care, including Fractures and Dislocations, Reverse Total Shoulder Replacement
Sports Medicine, including Shoulder Arthroscopy, Knee Arthroscopy
Wrist Care – Distal Radius Fractures, Carpal Tunnel Syndrome
Education
Certification
Board Eligible, American Board of Orthopaedic Surgery
Fellowship
Orthopedic Trauma Fellowship, OrthoIndy, Indianapolis, IN
Residency
Orthopedic Surgery Residency, Western Michigan University Homer Stryker MD School of Medicine, Kalamazoo, MI
Medical Degree
Doctor of Medicine, University of Minnesota Medical School, Minneapolis, MN
Hospital & Surgery Center Affiliations
Maple Grove Ambulatory Surgery Center
Maple Grove Hospital
North Memorial Hospital
Plymouth Ambulatory Surgery Center (2024)
Fairview Southdale Hospital
Fairview Ridges Hospital
Professional Affiliations
Orthopedic Trauma Association
AO North America
American Academy of Orthopedic Surgeons
Achievements & Awards
Mid-America Orthopedic Association Educational Grant Recipient (2022)
Alpha Omega Alpha Honor Society (2015)
T. John Leppi Award in Anatomy (2014)
St. Luke's Scholarship (2013)
Dean's Scholarship (2012 – 2017)
Phi Beta Kappa Honor Society (2011)
Regents' & Trustees' Scholarship (2007 – 2011)
William V. Campbell Trophy Semifinalist, Football (2010)
Academic All-American, Football (2010)
3-time Academic All-Conference, Football (2008 – 2010)
CRC Freshman Chemistry Student of the Year Award (2008)
Appointments
Scholastic Standing Committee Student Representative (2012 – 2014)
Resident Representative for Quarterly Faculty Meeting (2017 – 2022)
Staff
Kyle Theilmann, PA-C
Certified Physician Assistant
Patient Testimonials
Add Testimonial