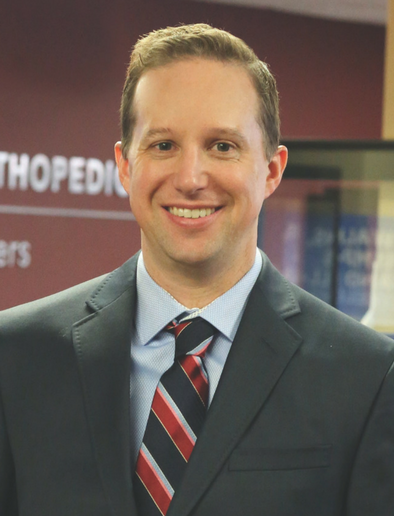 Practice Overview
Jason (Jay) Barry, MD, is a board certified fellowship-trained orthopedic surgeon specializing in sports medicine and arthroscopic surgery, as well as minimally invasive knee and shoulder replacement. His special interests include ACL reconstruction, meniscus root repair, shoulder instability, rotator cuff repair and hip arthroscopy.
Dr. Barry is a graduate of the University of St. Thomas, where he played hockey, and Creighton University School of Medicine. He completed his fellowship at TRIA Orthopaedic Center, where he worked with Minnesota's professional sports teams. He practices at Twin Cities Orthopedics clinics in Coon Rapids, Blaine and Otsego. He performs surgery in Coon Rapids, Fridley and Maple Grove. In addition to treating patients and athletes of all ages, Dr. Barry participates on the Twin Cities Orthopedics Board of Directors, Blaine Orthopedic Surgery Center Board of Directors and is a member of the Sports Medicine Committee at TCO. He helps create new, accelerated physical therapy protocols for patients. He is involved with the sports medicine community, helping student athletes at numerous high schools, clubs and colleges.
Away from work, Dr. Barry enjoys traveling, golfing and spending time with his wife and three daughters.
Clinical Interest
Ankle care, including sprains, fractures, and Achilles tendon injuries
Elbow injuries, including tennis elbow (Tenex procedure), distal biceps, and triceps tendon injuries
Foot fractures
Hand care, including fractures, trigger finger, carpal tunnel syndrome, and cysts
Hip care, focusing primarily on hip arthroscopy for femoroacetabular (hip) impingement syndrome and labrum tears
Knee care, including total knee replacement, partial knee replacement, ACL and PCL reconstruction, meniscus injury, and meniscus root repair procedures
Pediatric injuries, including upper and lower extremity sprains/strains, sports injuries, and common pediatric fractures
Shoulder care, including standard and reverse total shoulder arthroplasty, rotator cuff repair and revision repairs, labrum tears, biceps tendon pathology, instability, and fractures
Sports medicine, including both operative and non-operative treatment of sports injuries in patients of all ages and skill levels
Wrist injuries
Education
Certification
Board Certified, American Board of Orthopaedic Surgery
Sports Medicine Subspecialty Certification
Fellowship
Fellowship in Sports Medicine at TRIA Orthopaedic Center, Bloomington MN
Residency
Orlando Regional Healthcare, Orlando FL
Medical Degree
Creighton University School of Medicine, Omaha NE
Hospital & Surgery Center Affiliations
Blaine Orthopedic Surgery Center
North Memorial Ambulatory Surgery Center at Maple Grove
Unity and Mercy Hospitals
Professional Affiliations
American Academy of Orthopaedic Surgeons
American Orthopaedic Society for Sports Medicine
Arthroscopy Association of North America
Minnesota Medical Association
Minnesota Orthopaedic Society
Achievements & Awards
Top Doctor Rising Star: Voted an Orthopedic Rising Star by his peers in Mpls.St.Paul Magazine (2016, 2017, 2018)
Voted 'Top Orthopedic Surgeon & Faculty' by the residents of Blaine & Spring Lake Park (2017)
Voted #1 – Best Orthopedic Surgeon in the 2017 Reader's Choice Award by the Blaine and Spring Lake Park communities.
Sports Affiliations
Team Physician: Spring Lake Park High School
Team Physician: University of St. Thomas men's and women's hockey (2012-2017)
Team Physician: North Central University (2015-2016)
Fellowship: Minnesota Swarm
Fellowship: Minnesota Vikings, Minnesota Wild and Minnesota Twins (2008 – 2009)
Fellowship: NFL Combine (2009)
Staff
Rebecca Munson, PA-C
Certified Physician Assistant
Jeni O.
Care Coordinator
Patient Testimonials
Show All Testimonials
Add Testimonial