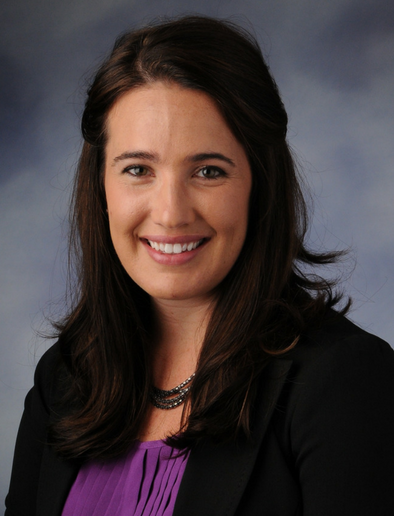 Practice Overview
Dr. Ryan grew up on her family grain farm just outside of Marshall, MN. She grew up playing multiple sports and this fueled her passion to pursue a career helping people stay active and healthy. She attended the College of St. Benedict obtaining an undergraduate degree in Biology with a minor in Sports Medicine before going on to medical school at the University of Minnesota Duluth and University of Minnesota Twin Cities. She completed Family Medicine residency at the University of Minnesota Methodist and then moved out east to complete a one year Sports Medicine fellowship at the University of Connecticut where she enjoyed watching the men's and women's basketball teams win NCAA championships.
During fellowship at UConn, Dr. Ryan was fortunate to experience a broad range of sports medicine training including caring for the Division 1 athletes and WNBA Connecticut Sun players. She was also able to volunteer at the Lake Placid Iron Man medical tent, the Boston Marathon medical tent and Lake Placid Whiteface Mountain medical triage unit. During her time at UConn she trained with some of the top sports medicine providers in the country and learned valuable skills that she was able to bring back to Minnesota where she works to keep her patients as active and pain free as possible.
Dr. Ryan is an adjunct assistant professor at the University of Minnesota Medical School in the Department of Family Medicine and Community Health where she works with medical students and residents teaching sports medicine. For 3 years she was also the co-medical director of the North Star Grand Prix Bicycle Festival which is a 5 day, 5 city elite cycling event. She was the team physician for St. Louis Park High School for several years. She continues to be a volunteer physician with the Minnesota State High School League and Twin Cities Marathon. She also volunteers in medical tents for many local races and events.
In her free time, Dr. Ryan enjoys spending time with friends and family including her young twins as well as participating in all the sports and culture Minnesota has to offer. She especially enjoys basketball, volleyball, golf, running, and skiing (both water and downhill).
TCO Tribune by Dr. Ryan: Get Active (Not Hurt) While Social Distancing – Read Article
Clinical Interest
Treats non-operative conditions in the following areas:
Foot care
Ankle care
Hand care
Wrist care
Elbow care
Shoulder care
Hip care
Knee care
Pediatric care
Spine and neck care
Sports medicine
Family medicine
Ultrasound guided procedures, including platelet rich plasma (PRP) intra-articular joint steroid Injections, and intra-articular hyaluronic acid injections
Education
Certifications
Board Certified, American Board of Family Medicine
Subspecialty Certification in Sports Medicine
Fellowship
Fellowship in Sports Medicine from the University of Connecticut
Residency
University of Minnesota – Methodist, Family Medicine Residency in Saint Louis Park, Minnesota
Medical Degree
University of Minnesota, Minneapolis, Minnesota
Hospital & Surgery Center Affiliations
Maple Grove Hospital
Minnetonka Medical Center
North Memorial Medical Center
Professional Affiliations
American Academy of Family Physicians
American College of Sports Medicine
American Medical Society for Sports Medicine
Minnesota Medical Association
American Medical Association
Achievements & Awards
Gold Humanism Society Member (2009, 2010)
Avera Medical Student Scholarship (2008)
ACMC Scholarship (2006, 2007, 2008, 2009)
Stillwell Scholarship (2006, 2007, 2008, 2009)
Alpha Epsilon Iota Scholarship (2008)
Educational Affiliations
University of Minnesota Department of Family Medicine and Community Health – Adjunct Professor
Sports Affiliations
Minnesota State High School League's Sports Medicine Advisory Committee
Twin Cities Marathon – Volunteer Physician
Minnesota State High School League – Volunteer Physician
Medical Director of North Star Grand Prix Bicycle Festival
Schwan's Cup – National Sports Center
Staff
Danielle B.
Sports Medicine Coordinator
Patient Testimonials
Show All Testimonials
Add Testimonial